General Information
Tour Highlights
Embark in rich cultural exchange in Bali, learning traditional dance, batik-making & gamelan-playing
A cruise trip around Komodo Island on your own private schooner
A flight over Mount Batur in a private helicopter
Discover a private dining and snorkeling boat charter adventure to explore Bali's reefs
Tour Details
Duration: 13 days/ 12 nights
Start/ End: Bali / Bali
Tour Route: Bali – Komodo Island – Borobudur – Yogyakarta – Bali
Date: No Fixed Departure – Anytime You Wish
Tour Customizable: Definitely! Tell us your interests in the inquiry form
Tour Guide: Private local guide (English speaking guide or other languages as you want)
Transportation: Private first-class air-conditioned vehicles
Brief Itinerary
Day 01: Bali Arrival
Day 02: Bali
Day 03: Bali
Day 04: Komodo Island
Day 05: Komodo Island
Day 06: Komodo Island
Day 07: Borobudur
Day 08: Borobudur
Day 09: Yogyakarta
Day 10: Bali
Day 11: Bali
Day 12: Bali
Day 13: Bali Departure
Full Details
Day 01: Bali Arrival
Upon arrival, you'll be warmly greeted by Luxury Asia Trips' private guide and driver. They then escort you to the hotel for check-in. The rest of the day will be yours. Relax at leisure.
Accommodation: MANDAPA, A RITZ-CARLTON RESERVE
Day 02: Bali
After an early breakfast at your hotel, your tour guide will be ready to pick you up around 8.30 am in the lobby and it's only a 20′ drive to your first activity of the day – white water rafting. The Ayung River gives a thrill that starts the moment you push off from the riverbanks. On the more leisurely stretches through tropical forests, you will see Hindu shrines brightly decorated on ceremonial days of prayer. Discover hidden waterfalls, swim in the pristine water and enjoy the spectacular scenery of the Ayung River valley, then take on the challenge of exciting class II and III rapids! A refreshment buffet is your reward at the finish point, to replenish your energy.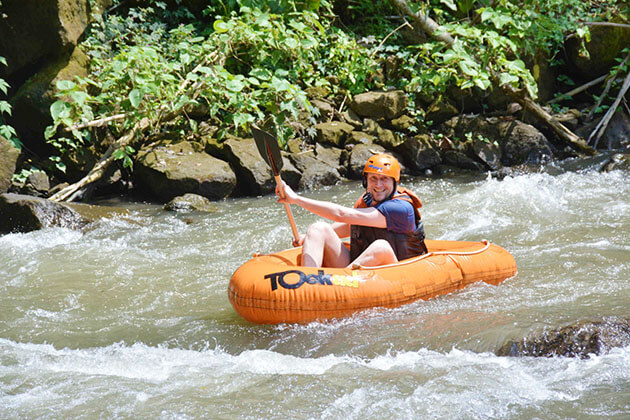 After lunch, you'll visit the forest and to meet the local primate inhabitants. The Sacred Monkey Forest Sanctuary is a 27-acre space of cool and dense jungle in the Padangtegal area of Ubud. The local residents view Monkey Forest as an important spiritual, economic, and educational center for the village. The mysterious temple complex embedded in the jungle is home to a tribe of grey-haired long-tailed macaque monkeys and a 'must-see' stop on the village tour. Once you've finished in the forest, your last stop will be the handicrafts and trinkets of Ubud's bustling market.
Accommodation: MANDAPA, A RITZ-CARLTON RESERVE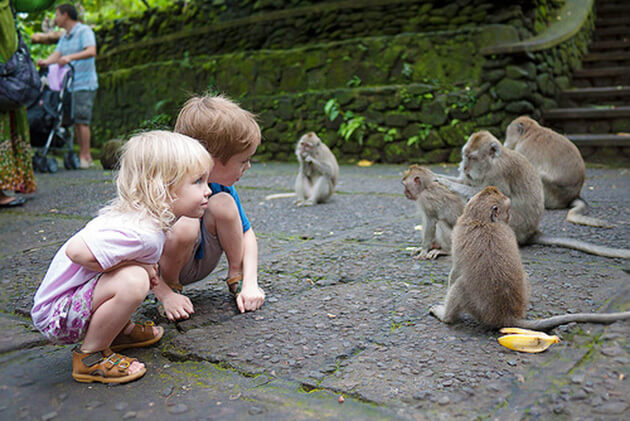 Day 03: Bali
This morning makes for an early simple breakfast before you meet your guide at 7 am for a 45-minute drive to the peaceful village of Sebatu Village. On the way, you'll make a short stop in Tegalalang Village, known for its beautiful rice terraces, tropical rainforest and as a home to Balinese artists. Start your walk-through rice paddies to learn how rice is grown, cultivated and harvested, and meet farmers plowing and planting. They will be happy to invite you to join them. Pause to visit local artist's workshop, where you can join and practice the art of wood carving or local painting styles.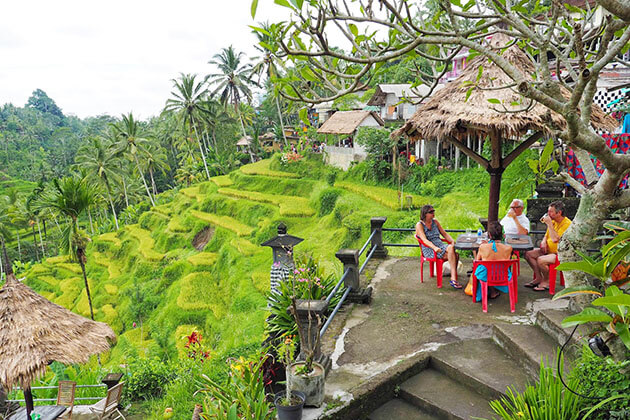 Your walking tour ends at Gunung Kawi Sebatu Temple for a blessing ceremony. You will be led by a Hindu Priest to perform a purification ceremony by presenting an offering on the Shrine located in the holy water. After presenting the offering, the priest will lead you to take a bath in the Holy Spring Water Plunge Pool. The Balinese believe that the holy water purifies the body and soul. While you are bathing, your body shows the energy of spirit splashing from the fountain and flowing down to the pool, creating different colors for different people. From the result of the watercolor, the priest will be able to read your energy of life and give you advice.
Accommodation: MANDAPA, A RITZ-CARLTON RESERVE
Day 04: Komodo Island
Meet your guide at the airport and take a short drive to the harbor. On the way visit I-Dive Shop, where you'll be fitted for your dive equipment.
Next, you'll embark on your Phinisi for boat orientation and cruise to Kalong Island. A late lunch will be served on the way. You'll anchor in Kalong Island or literary in English Bat Island, an island home to thousand bats. While waiting to enjoy the sunset, you'll witness thousands of bats flying out of the island. The boat will moor up and you'll enjoy a leisurely dinner.
Accommodation: PRIVATE SCHOONER
Day 05: Komodo Island
After breakfast, you'll visit the ranger's station of Loh Buaya on Rinca Island for an encounter with the famed Komodo dragons and wildlife of Rinca, in the company of experienced rangers. Aside from the formidable dragons, you are likely to encounter buffalo, deer and wild horses. From the top of the Rinca hills, the scenery is spectacular. Returning to the yacht for lunch, you'll then set sail for Padar island. A deserted island with great views, here you can enjoy snorkeling, diving, swimming, kayaking, or simply strolling along the beach. In the meanwhile, enjoy drinks and nibbles on the beach at sunset, and the boat will anchor here for the night.
Accommodation: PRIVATE SCHOONER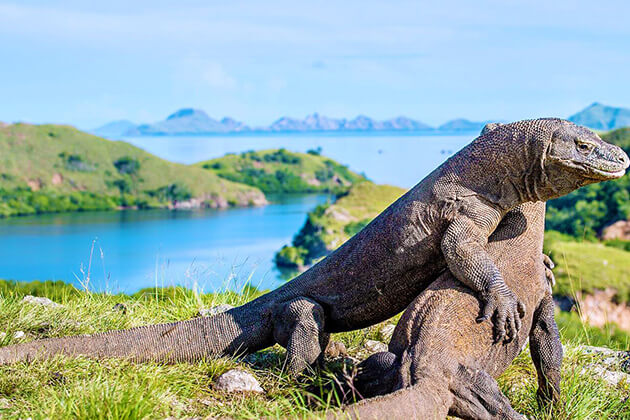 Day 06: Komodo Island
After breakfast, the vessel will navigate to Karang Makassar, known as Manta Point, for a chance to encounter manta rays, snappers, and turtles in amongst the pristine reef.
Later in the afternoon, you'll sail onwards to the uninhabited island of Gili Lawa Darat, where you can trek to reach a breathtaking panorama of the entire island.
Accommodation: PRIVATE SCHOONER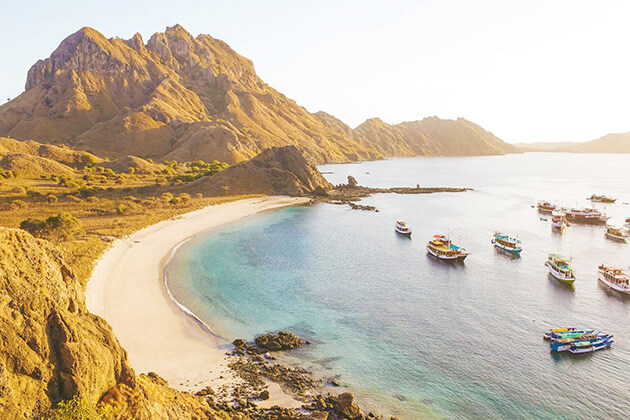 Day 07: Borobudur
Arise early this morning for a day of snorkeling and sailing around the island of Gili Lawa Darat. Take one last opportunity to swim in the crystal seas around your own isolated isle before the schooner heads back to Labuan Bajo. Then, you'll catch a flight to your next destination, Borobudur.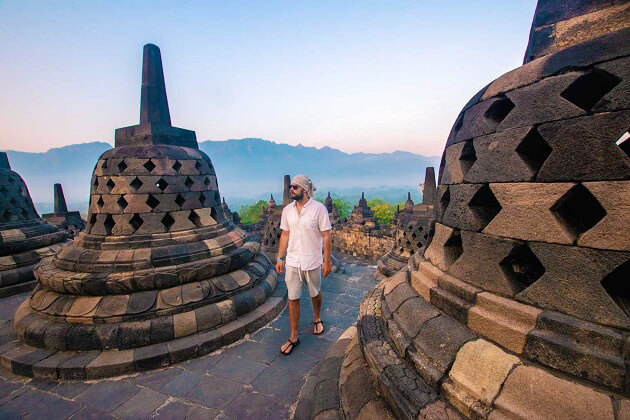 Upon arrival in Yogyakarta Airport, you'll meet your tour guide for vehicle assignment and depart for your hotel Borobudur area, the prestigious Amanjiwo, around an hour and a half away. The rest of the day will be yours. Relax at leisure.
Day 08: Borobudur
If you want, wake early to witness the sunrise from the world-famous Borobudur temple (your tour guide will be ready to meet you at 4.30 am). Without a doubt, this is the best time of the day to explore this massive Buddhist temple, the largest in the world, and discover its magic. Then, head back to your hotel to freshen up around 7 am to have breakfast and take a nap.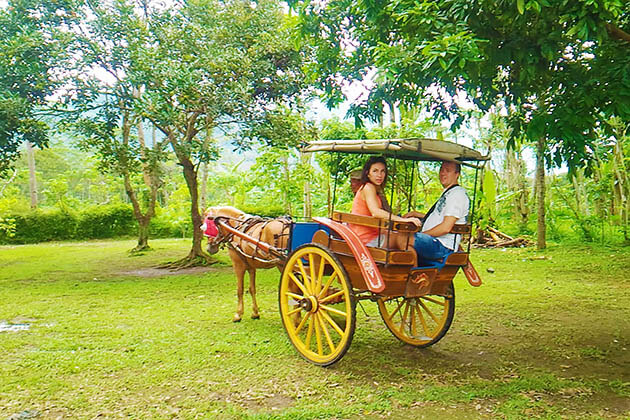 At 10 am, you'll head to Candirejo Village, a traditional Javanese village where you can learn about Javanese culture and daily life, including farming, art performances, and local food. You'll take a traditional Andong (horse and carriage) around the village.
Day 09: Yogyakarta
After breakfast, continue your journey with a historical tour at Yogyakarta, which includes visits to the Sultan Palace and Taman Sari. Sultan Palace was built between 1756 and 1790 and is a splendid example of traditional Javanese court architecture. Conceived not only as of the royal residence but built as the focal point of the entire kingdom. The Keraton is also constructed as a miniature model of Javanese-Hindu Kingdom.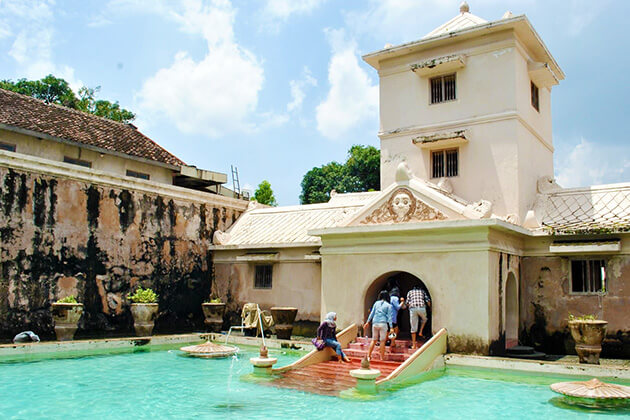 Taman Sari, also known as the Water Castle, was built in 1758 as an elaborate retreat with a two-story mansion built on an elevated mound arising out of an artificial lake. Another impressive feature is the underwater tunnel, sunken bathing pools, meditation chambers, and 18 lavish tropical gardens.
Day 10: Bali
Today, morning at leisure and then, you'll be escorted to the airport for a flight back to Bali. Upon arrival, your private guide & the driver will meet you and escort you to the hotel. The rest of the day will be yours. Relax at leisure.
Day 11: Bali
Meet your tour guide in the hotel at 8 am for a 1.5-hour drive to Iseh Village, where you'll hop on a bike. Explore the colorful landscape of eastern Bali, which includes great volcanic valleys, rice terraces, and lush tropical rainforest. Occasionally, you can view the ocean and Agung Mountain. Your first stop will be a Sibetan village, where snakeskin fruit grows and you can join the farmer to pick and taste this plant. The Sibetan village is also known for its rice wine production.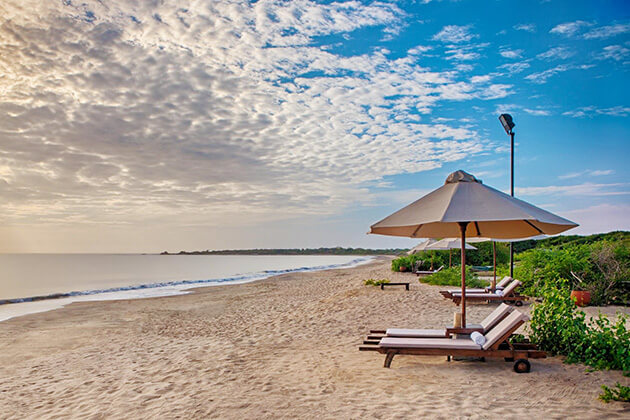 Next, you'll head to Prasi Beach, located on a secluded coast between two hills and two villages, Prasi and Bugbug. Unlike other beaches in the east of Bali, Prasi Beach offers white sands stretching along the bay and great swimming spots.
Day 12: Bali
Today, you will enjoy an exciting trip to Lempuyang Temple. The Lempuyang Temple is known to the Balinese as a place of "spiritual power". The meaning behind Lempuyang comes from "Lempu" meaning the light, and "Yang," which comes from the name of Almighty God Sang Hyang Widi. The Lempuyang Temple sits at the summit of Mount Lempuyang, around 1,745 meters above sea level and surrounded by lush valley landscapes. This area is also home to thousands of grey macaques.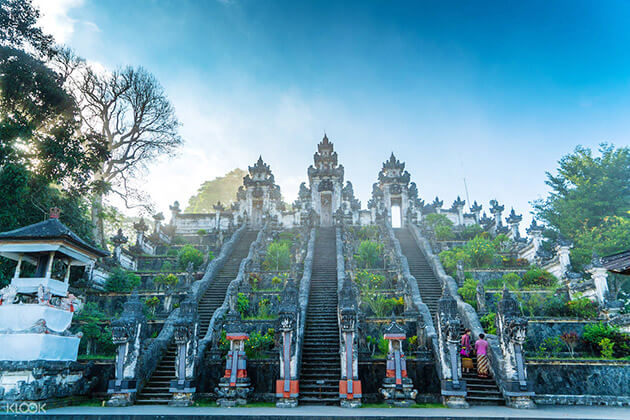 Next, you'll head to the Taman Ujung Complex, which has a combination of Balinese and European architecture and three large ponds connected by long elegant bridges and pathways. The enduring architecture and superb mountain backdrop to the north, and sea to its southwest, make it a favorite location for wedding photos.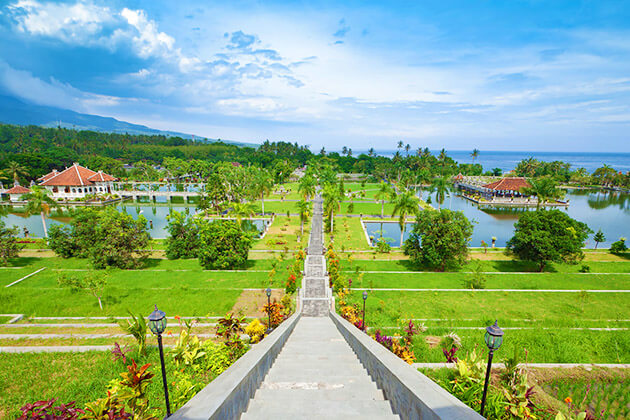 Finally, you'll head to Tirta Gangga, which translates to mean "Water from the Ganges," and is a site of reverence for the Hindu Balinese. Tirta Gangga water palace is a maze of pools and fountains surrounded by a lush garden, stone carvings, and statues. The centerpiece of the palace is an 11-tiered fountain and there are many stunning carvings as well as statues adorning the gardens. The water of Tirta Gangga has constantly been regarded as sacred and is regularly used for religious temple ceremonies.
Day 13: Bali Departure
Farewell to you. Breakfast and morning at leisure until getting escorted to the airport for a flight coming home. The Asia luxury trip ends. Hope you enjoyed it and wish that we could serve you next time in Indonesia.