General Information
Tour Highlights
Onboard your bamboo raft, slowly drift through the beautiful valleys of the Guilin area and take in the impressive scenery of monolithic karst structures.
Admire the large cliff-face mural drawn by the Zhuang people of rural China; a piece consisting of 1,300 figures.
Visit the Xiaozhai village, home to the Yao minority, and find out why the local women cut their hair only twice in their lifetimes.
Tour Detail
Duration: 5 days/ 4 nights
Start/ End: Yangshuo/ Guilin
Tour Route: Yangshuo– Ping An – Xiaozhai – Guilin
Date: No Fixed Departure – Anytime You Wish
Tour Customizable: Definitely! Tell us your interests in the inquiry form
Tour Guide: Private local guide (English speaking guide or other languages as you want)
Transportation: Private first-class air-conditioned vehicles
Brief Itinerary
Day 01: Yangshuo
Day 02: Yangshuo
Day 03: Ping An
Day 04: Xiaozhai
Day 05: Guilin
Full Itinerary
Day 01: Yangshuo
After arriving in Guilin, you will be transferred by private vehicle to your hotel in Yangshuo, The Yangshuo Resort. Guilin City and the nearby town of Yangshuo are often said to be two of the most beautiful places in China. You will have the chance to see some stunning scenery, ranging from the Li River to the hundreds of limestone karst formations, all of which have been designated as a UNESCO World Heritage Site. These special rock formations are formed from prehistoric seafloor sediment, which rose up to the surface due to erosion by streams. These unique peaks seen throughout the region were shaped by rainfall eroding away the soft sediment. Experience a local lunch in either town of your choice – your knowledgeable guide will recommend the best spot.
Accommodation: YANGSHUO RESORT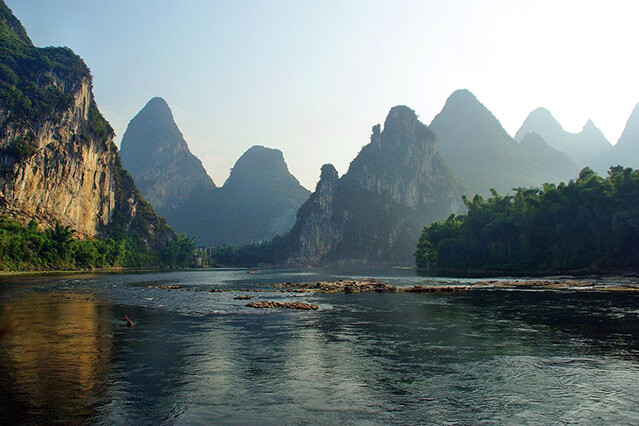 Day 02: Yangshuo
Today will be an exciting day of touring around Yangshuo. Meet your personal tour guide at 9 am before driving 30 minutes to the Yulong River, where your private 90-minute bamboo raft cruise will begin. Sit down to lunch with your English-speaking guide. Your guide's family will cook using fresh ingredients straight from their garden and host an interactive, hands-on cooking demonstration. After a delicious meal, get back into the countryside. Head to Bilian Peak, which offers panoramic scenery of the Li River as well as the Silver Cave. Next, pay a visit to Moon Hill, a renowned limestone rock formation with a large moon-shaped hole in the middle. Return to the Yangshuo Resort for dinner, or if you're up for some more action, head along to the bustling Xi Jie (West Street), a walking street full of delicious Chinese cuisine.
Accommodation: YANGSHUO RESORT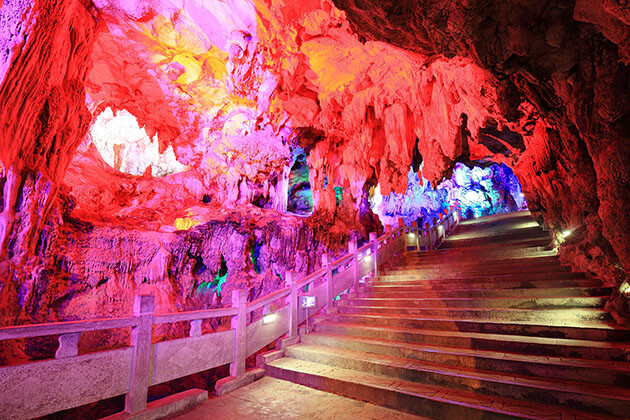 Day 03: Ping An
Wake up early and make your way to Ping An, a three-hour drive. Check in to your accommodation – the charming Li-An Lodge, located in the Old Town area. Ping An is set on the famous Dragon's Back Rice Terraces, also known as longji titian, in Longsheng. These gracefully-tiered platforms become narrower the higher they are, giving them the appearance of a huge snail when seen from afar. The village is mostly populated by the Zhuang minority, the largest ethnic minority in China. The Zhuang people are famous for their impressive mural paintings, the most famous of which is 328-feet-long and 131-feet-wide, located in the southwest along with the cliff faces of Zuojiang. Spend a relaxing day in the city and experience a local Chinese massage or have a health check by a traditional Chinese medicine practitioner.
Accommodation: LI-AN LODGE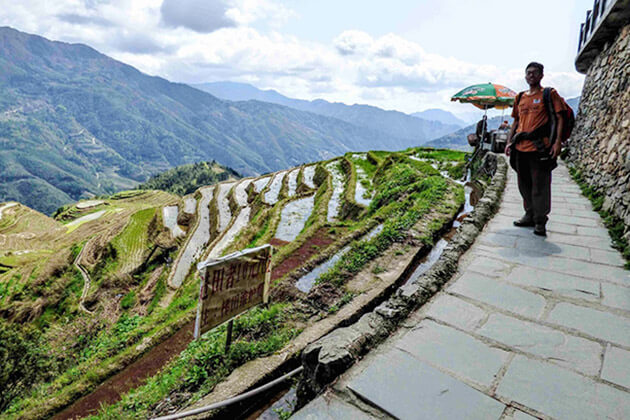 Day 04: Xiaozhai
Day four is another exciting day of touring, starting just after breakfast. Drive approximately one and a half hours on a slightly bumpy road before reaching the Xiaozhai village, home to the Yao minority. Here, you'll be greeted by villagers performing a traditional singing ceremony and find out why Yao women only cut their hair twice in their lives – first as a teenager and again after they marry. Enjoy a packed lunch and walk 15 minutes uphill before arriving at the heart of the village, where you will be met by the remainder of the villagers. Chit-chat over a cup of tea before heading back to Li-An Lodge.
Accommodation: LI-AN LODGE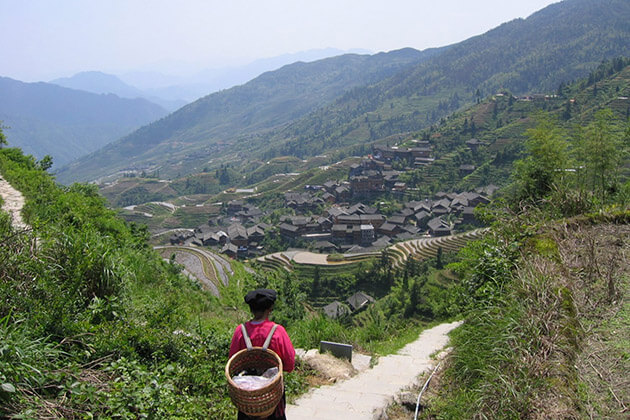 Day 05: Guilin
Take a refreshing morning hike through the terraces before driving back to Guilin. Say farewell to your new friends before staying overnight at the Yangshuo Resort or flying out to your next destination. Our trip ends. Hope you enjoyed it and wish that when it comes to other Asia luxury tours, you will go with us.