General Information
Tour Highlights
Visit coffee plantations to sample the local beans
Explore the ancient ruins of the UNESCO World Heritage Site of Wat Phu
Enjoy a stay on the banks of the Mekong on Don Daeng Island Kayak and cruise along the Mekong, looking for Irrawaddy dolphins
Tour Detail
Duration: 10 days/ 9 nights
Start/ End: Pakse / Pakse
Tour Route: Pakse – Champasak – Don Khone – Pakse
Date: No Fixed Departure – Anytime You Wish
Tour Customizable: Definitely! Tell us your interests in the inquiry form
Tour Guide: Private local guide (English speaking guide or other languages as you want)
Transportation: Private first-class air-conditioned vehicles
Brief Itinerary
Day 01: Pakse Arrival
Day 02: Pakse
Day 03: Pakse
Day 04: Champasak
Day 05: Champasak
Day 06: Don Khone
Day 07: Don Khone
Day 08: Don Khone
Day 09: Pakse
Day 10: Pakse Departure
Full Itinerary
Day 01: Pakse Arrival
Upon arrival, you'll be warmly greeted by Luxury Asia Trips' private guide & driver. You'll start your 9-day luxury tour of Southern Laos in Pakse. This former administrative French colonial city is located at the junction of the Mekong and Xe Don rivers, and sports stunning water and mountain views. Home to ancient temples, French colonial architecture, and lazy riverside restaurants, Pakse is a fantastic launch point for exploring the laid-back Southern Laos region.
Accommodation: CHAMPASAK GRAND HOTEL or CHAMPASAK PALACE HOTEL
Day 02: Pakse
The Bolaven Plateau, which presides over Pakse, is home to a growing number of coffee plantations, and today you'll embark upon an excursion to the agricultural village of Ban Katuu. Here, you'll get a glimpse of local coffee production and sample fresh Lao coffee. Go on to visit Talat Dao Heung Market near the Japanese Bridge, where you can bargain for coffee and browse colorful stalls of spices, dried fish, fresh fruits, and Lao sweets. In the evening, relax and enjoy dinner at a local restaurant before retiring to your hotel.
Accommodation: CHAMPASAK GRAND HOTEL or CHAMPASAK PALACE HOTEL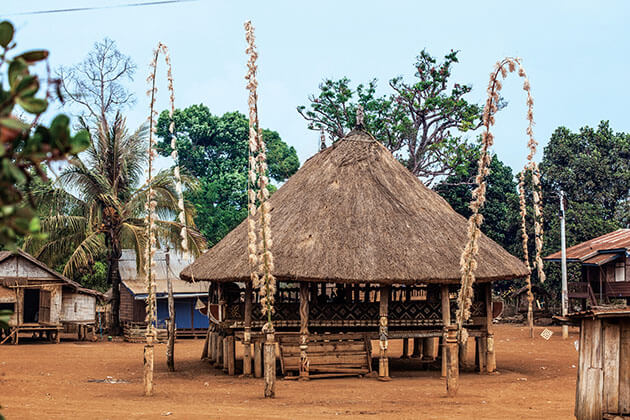 Day 03: Pakse
Today you'll explore another of the Bolaven Plateau's famous features: Tad Fane waterfall. Situated in dense rainforest, this waterfall has twin streams that plunge from an impressive height of 800 feet. Next, you'll drive to Tad Yeung waterfall and the surrounding coffee plantation and enjoy a swim in its cool, clear waters. Return to your hotel in Pakse this evening.
Accommodation: CHAMPASAK GRAND HOTEL or CHAMPASAK PALACE HOTEL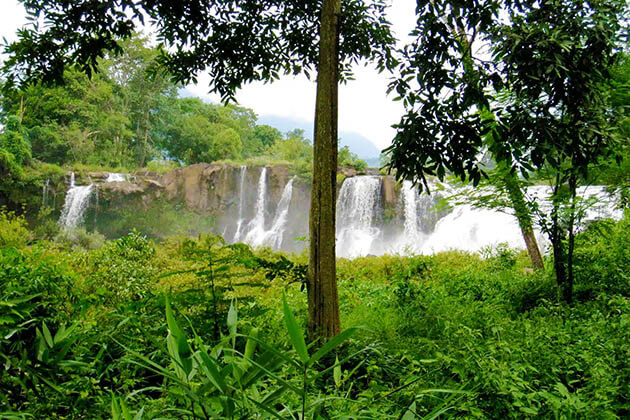 Day 04: Champasak
Make your way to Champasak today (1 hour's drive) to visit the ancient ruins of Wat Phu. Outdating Angkor Wat by almost 500 years, these ruins offer insight into the region's cultural heritage and still function today as a Buddhist worship site. After exploring the site, you'll make your way to La Folie Lodge, on the banks of the Mekong. La Folie Lodge's wooden bungalows offer fantastic water, garden, and mountain views.
Accommodation: LA FOLIE LODGE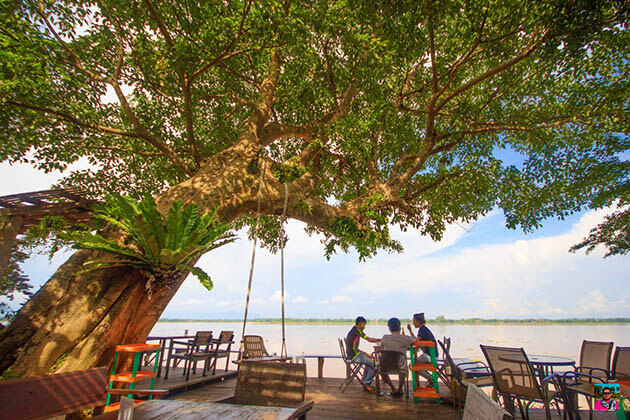 Day 05: Champasak
Today, intrepid travelers can enjoy a tour of the river communities of Don Daeng. This region in the Mekong comprises over 4,000 islands of various sizes, characterized by their laid-back pace the rustic wooden bungalows that comprise them. You'll get a rare glimpse of river life by visiting one of these communities, touring a local school, and meeting village elders. You'll eat with the residents, enjoying a traditional local meal of papaya salad (som tum), sticky rice, and grilled fish.
Accommodation: LA FOLIE LODGE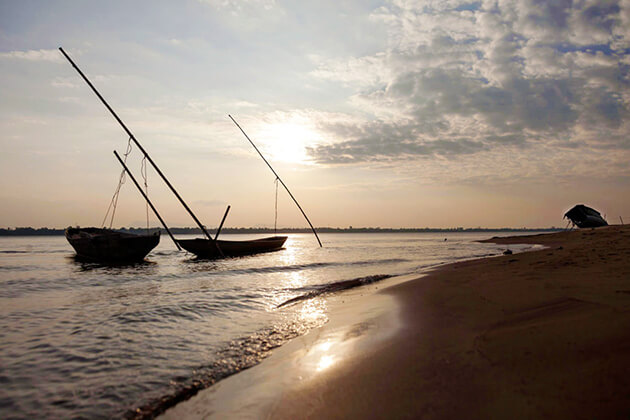 Day 06: Don Khone
The tiny island of Don Khone is your destination today. Measuring only 1.5 by 2.5 miles, this poetic village sports thatch-roof huts, swaying palms, as well as a collection of ancient colonial buildings. We visit old French villas and the narrow-gauge railway that was constructed during World War II. Check into the Auberge Sala Don Khone tonight, a beautiful riverfront property that boasts a restored French colonial house and a floating restaurant offering wide views of the Mekong.
Accommodation: AUBERGE SALA DON KHONE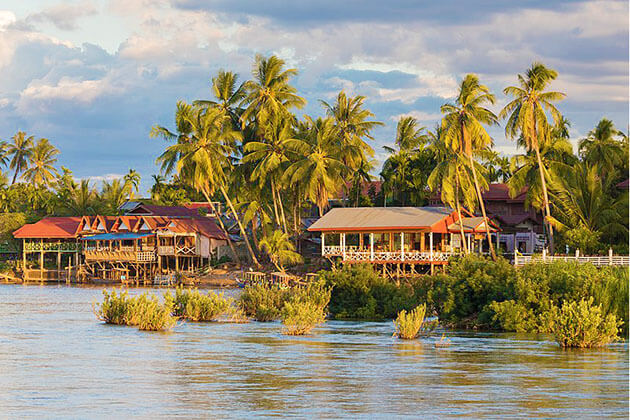 Day 07: Don Khone
There's only one way to really explore the waters surrounding Don Khone and that's by kayak. Today you can do just that with the assistance of a local guide who can show you where the calmest and most picturesque waterways are. Alternatively, you take to the river with an experienced kayaker and tackle some of its more challenging eddies and rapids. In the afternoon, you'll take a local boat ride to spot Irrawaddy dolphins. Numbers of Irrawaddy dolphins in the area are critically low; however, tourism drives support to conserve these friendly creatures, who can most typically be seen at the southern tip of the island. Return to your resort in Don Khone tonight.
Accommodation: AUBERGE SALA DON KHONE
Day 08: Don Khone
Today you'll visit nearby islands, and take a day-trip to the silk weaving village of Ban Saphai. Ban Saphai is the historic capital of weaving in Champasak and it's here where you'll get a demonstration in "mut mee" weaving from local craftspeople and have the chance to pick up a traditional shoulder sash or skirt. Afterward, explore the islands at your leisure by bicycle – the islands' most popular form of transport. Back to your resort on the riverside in Don Khone tonight.
Accommodation: AUBERGE SALA DON KHONE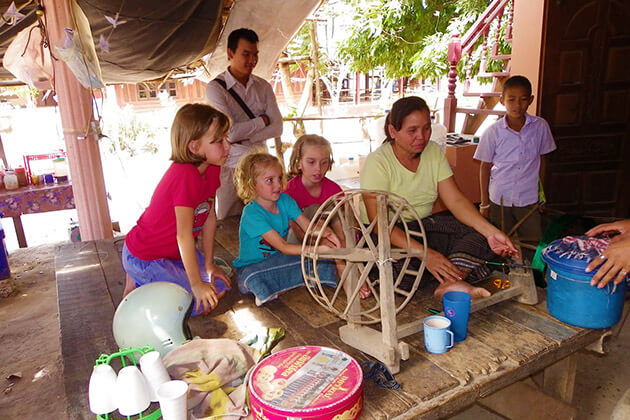 Day 09: Pakse
Today, you will be escorted back to Pakse. The rest of the day will be yours. Relax at leisure.
Accommodation: CHAMPASAK GRAND HOTEL or CHAMPASAK PALACE HOTEL
Day 10: Pakse Departure
Farewell to you. Breakfast and morning at leisure until getting escorted to the airport for a flight coming home. Your vacation ends. Hope you enjoyed it. Planning to enjoy other Asia luxury tours again, wish we could go with each other one more time. Safe flight!