General Information
Tour Highlights
Visit Angkor Wat, discovering its treasures and learning about its history
Cruise the mighty Mekong river and see the many animals and people living on it
Pay homage to the departed at the site of the Cambodian genocide, the Cheung Ek Killing fields
Swim and snorkel in the warm tropical water and discover rare marine life
Tour Detail
Duration: 11 days/ 10 nights
Tour Route: Siem Reap – Phnom Penh– Song Saa
Date: No Fixed Departure – Anytime You Wish
Tour Customizable: Definitely! Tell us your interests in the inquiry form
Tour Guide: Private local guide (English speaking guide or other languages as you want)
Transportation: Private first-class air-conditioned vehicles
Accommodation:
Day 01 – 07: AMANSARA – PARK HYATT SIEM REAP – AQUA MEKONG
Day 08 – 10: Song Saa
Brief Itinerary
Day 01: Siem Reap Arrival
Day 02: Siem Reap
Day 03: Siem Reap
Day 04: Siem Reap – Phnom Penh
Day 05: Phnom Penh
Day 06: Phnom Penh
Day 07: Phnom Penh
Day 08: Song Saa Private Island
Day 09: Song Saa Private Island
Day 10: Song Saa Private Island
Day 11: Departure
Full Itinerary
Day 01: Siem Reap Arrival
Upon arrival, you'll be warmly greeted by Luxury Asia Trips' private guide and driver. They then escort you to the hotel. Freshen up and be ready for an evening aboard a gondola at Angkor Thom, slowly traveling from the south gate to the west gate. Be serenaded by traditional Angkor music and enjoy wine and snacks as you take in the sunset over the ancient temples. Return to your hotel for dinner or choose to dine at one of the city's fine restaurants and try signature Cambodian dishes. If you wish, step out into the warm night and stroll the Angkor Night Market, a fun and lively space to pick up unique tchotchkes and sample the delicious street fare.
Day 02: Siem Reap
Rise early this morning to witness the sunrise over Angkor Wat, one of the world's most famous landmarks, and a significant religious center. Take in the grandeur of the 12th-century temple as daybreaks. Then take to the skies in a private helicopter for a bird's eye view of Angkor Wat and the entirety of the complex as well as other temples and ruins. Make a landing at a remote temple for a picnic lunch and close up look at the mystical bas-reliefs. Escape to the countryside and visit a local village. You can choose to donate a water well to a family ahead of your visit, and today, meet the fortunate family and the newly built well at their village. Hop on ATVs and ride through the dusty roads and rice paddies as the sun sets over the bucolic landscape.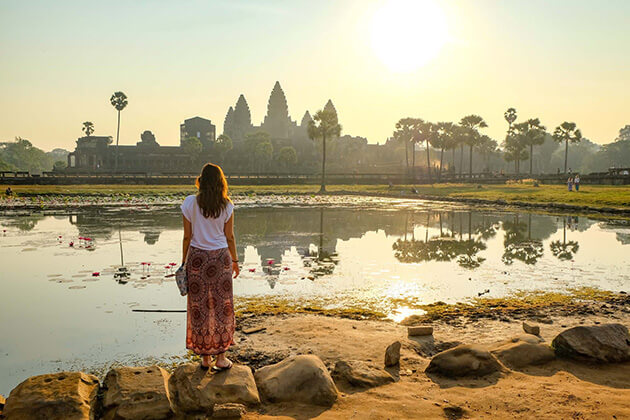 Day 03: Siem Reap
Couples looking for an enchanting experience will want to renew their sacred vows Khmer-style. Adorned in Khmer wedding dress and surrounded ancient Angkorian music, exchange vows and receive auspicious blessings from a monk in the middle of a private intimate ancient temple. Spend the rest of the day in blissful leisure or choose to visit a Khmer dance school where the students will perform a traditional dance or visit more ancient ruins. In the evening, be ready for a lavish multi-course dinner under the stars. Hosted on the grounds of a sacred Khmer temple and replete with traditional Cambodian dance and music, this magical experience will be unforgettable.
Day 04: Siem Reap – Phnom Penh
Check out this morning and depart for Tonle Sap, the largest freshwater lake in Southeast Asia and designated UNESCO Biosphere Reserve. Today you will embark on a river expedition that will take you down the Mekong to Cambodia's capital, Phnom Penh. Board the Aqua Mekong, a luxury cruise ship designed with spacious cabins allowing for plentiful natural light, fitted with modern amenities including an outdoor pool, spa, and library, and staffed with an experienced and accommodating crew.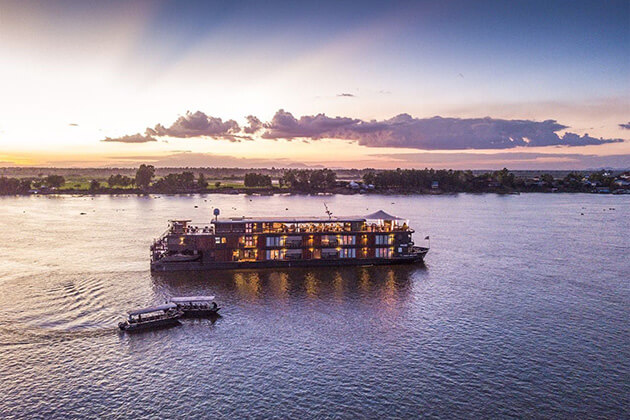 Day 05: Phnom Penh
Enjoy excursions or time relaxing on the boat as it makes its way downstream. Today's excursions may include a trip to Prek Toal Bird Reserve, home to endangered large waterbirds such as the black-headed Ibis, milky stork, and billed pelicans. Then, visit a floating village, accessible only by water. The villagers adapted to the fluctuations in water level by constructing buoyant bases to their houses and shops, creating a village that actually floats for several months out of the year.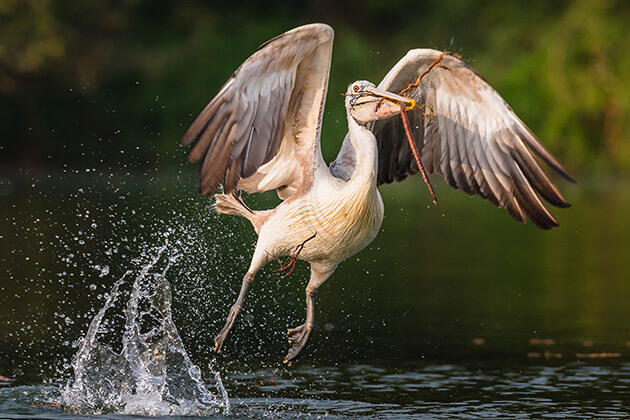 Day 06: Phnom Penh
Today's excursions may take you around more remote villages around the lake where you can witness villagers going about their daily lives to schools, churches, pagodas, karaoke bars, and police stations – all of which are afloat on the river.
Day 07: Phnom Penh
You may opt to join for a visit to Koh Chen, a silversmith village known for its quality craftsmanship whose bowls were regularly chosen by Cambodia's king as gifts for visiting dignitaries. In the afternoon, you will have the opportunity to explore the Mekong's 'silk islands' and watch skilled weavers at work. If you wish, hop on a bike and explore the island further.
Day 08: Song Saa Private Island
Arrive into port at Phnom Penh this morning and disembark. Meet your private guide for a half-day tour around the city, visiting the stunning Royal Palace and Silver Pagoda. Those wanting a deeper look at Cambodia's history may opt to visit the somber Tuol Sleng Museum of Genocide and the Killing Fields to learn about the Khmer Rouge movement and how its brutal actions shaped the modern country. After lunch, drive south to the seaside Sihanoukville where a speedboat will take you to a private island resort, Song Saa, the last destination of your journey.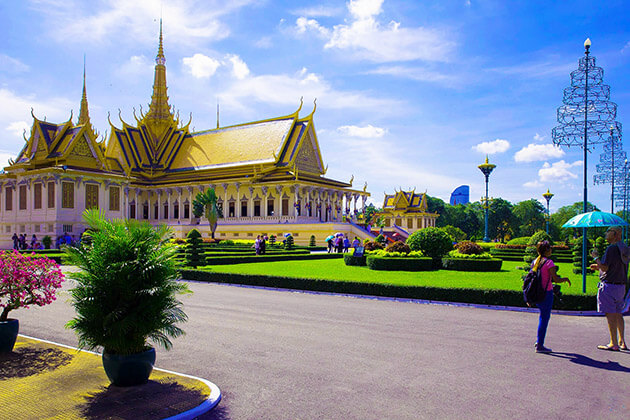 Day 09: Song Saa Private Island
While the day away lounging on your stretch of white sand fringed with palm trees and dazzling turquoise waters. Take a dip in the warm waters and snorkel out to discover the colorful reefs teeming with marine life, or go further out to Koh Rong Archipelago for a diving expedition to discover the home of barracuda, sea turtles, giant clams and dugongs. Enjoy the waters further with wakeboards, kayaks, inflatable tubes towed behind a speedboat, water skis and stand-up paddleboards, all available at the resort's beach club.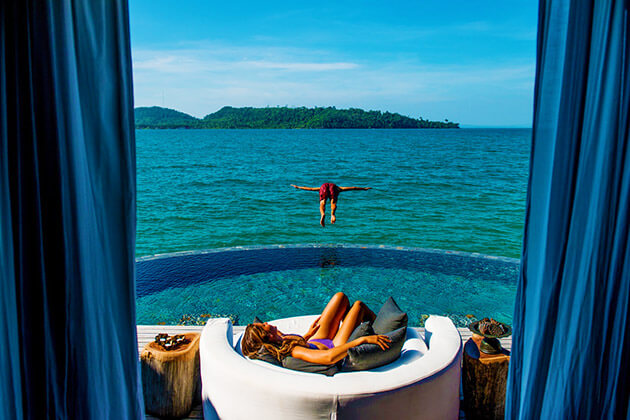 Day 10: Song Saa Private Island
Spend the last day in total relaxation by the pool, sea or at the spa. For a truly indulgent treat, sail on a traditional long-tail boat to a private beach and soak in the tropical sun in complete serenity. Active guests may choose amongst a wealth of excursions and experiences such as a cooking lesson, tour through a local farm by buffalo cart, hike through the rainforest for wildlife spotting and tropical bird watching, and visiting nearby Khmer fishing villages. Cap off your final night with a romantic dinner on the beach under the stars, toasting to your journey through Cambodia.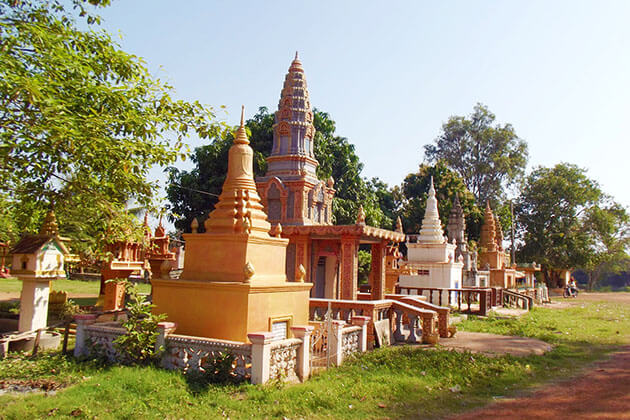 Day 11: Departure
Farewell to you. Breakfast and morning at leisure until getting escorted to the airport for a flight coming home. Your vacation ends. Hope you enjoyed it and wish that when it comes to other Asia luxury tours again, you wouldn't forget us. Safe flight!