You are enjoying Asia luxury tours in Laos and looking for the best Laos souvenirs and gift ideas to take home as a reminder of a wonderful trip? Numerous authentic products offered by locals including handmade, traditional textiles, edible souvenirs, organic beauty products, and other unique Laos products. Check out our recommendations about the best Laotian gifts and where to buy them before hunting for meaningful souvenirs.
Best Things to Buy in Laos
Laos Sinh (Laotian Traditional Dress)
The traditional Laos sinh is not simply a decorative piece of fabric. It becomes a national symbol of Laos femininity and beauty, stands for a unique expression of being Laos. Laos sinh has a story of over 3000 years, which makes Laotian women stand out from all others. Laotian women in sinh clothes are seen daily, from young girls to government workers and people in weddings and religious ceremonies. Having Laos Sinh as souvenirs will be one of the best ways to remember about your trip in Laos.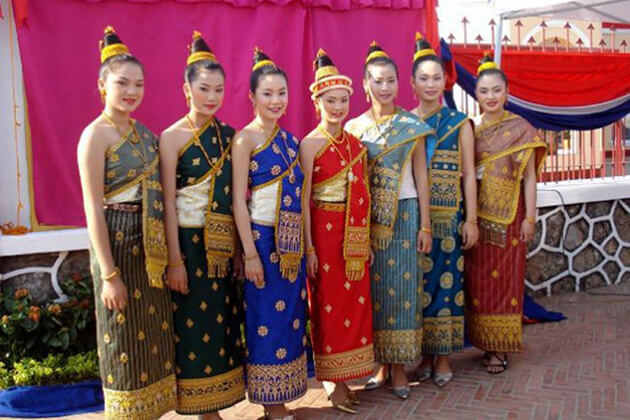 Laos Silk Textiles
When having a vacation in this country, do not forget to bring silk textiles from Laos. Weaving here is considered the art, and the weavers become the finest and skilled in the world. Much more than a normal meaning, textiles have been sent as gifts in the ceremony for a long time. Laotians make their textiles with more regional features, though they still maintain the main theme of traditional ones. The most popular products are shirts, scarves, and hand silk. You can choose some for souvenirs depending on your preferences and your needs.
Laos Jewelry
Laos Jewelry can be a great gift for travelers to buy in Laos. Tourists have amper choices from bangles, chains, and other meaningful travel gifts. The luxury and elegant jewelry is made of pure gold or silver, together with sophisticated decorations. All these dedication contribute to glamorous jewelry and make it worth to wear.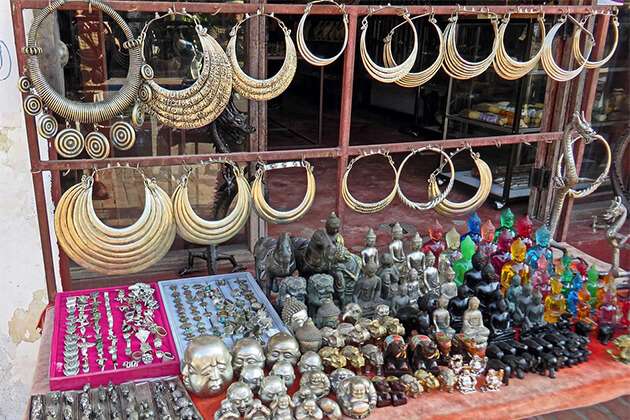 Laotian Handicrafts
Laos handicrafts are so special and now are a powerful commodity to promote the country's heritage to the world. They are meticulously designed by craftsmen and can be found in most markets and tourist centers in the country. Spend your time to pick up some special items like hand-sewn bedding, bags, rings, and even accessories.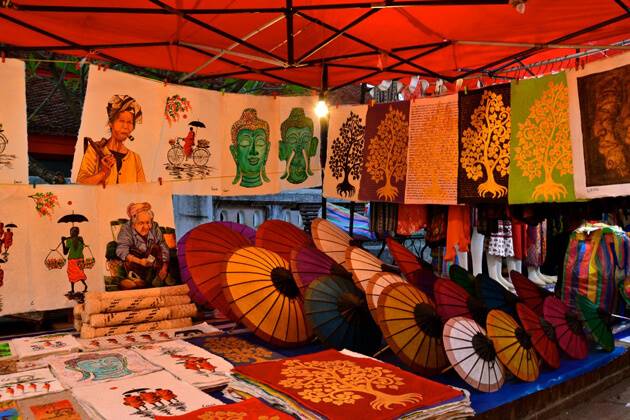 Champasak Coffee
It would be a regret if you travel to Laos without buying Champasak Coffee. Champasak has a reputation as one of the best places growing coffee in Southeast Asia. If you are a fan of coffee, take a stroll around to find the flavored coffee and choose some roasted coffee beans.
Where to Buy Souvenirs in Laos
Vientiane
The very first place we want to mention is Vientiane because the morning market is the most popular and largest destination for shopping. This is home to handicrafts and jewelry, which will satisfy you with attractive and unique gifts. Samsenthai, Pang Kam, and Setthathirat are the main chains for purchasing those products.
Xieng Khuang
Coming to Xieng Khuang means traveling to the famous Chinese market. The market supplies a variety of souvenirs made from plastics; however, if you prefer nature-based handicrafts, you also find out items made from gold and silver.
Maybe you desire to drop a visit to the Fresh market, it is also a good place to buy many items and specialties of Laotian such as Nok Aen fermented meat, mushroom.
Savannakhet
Savanxay market is not far from the central station. Soak up the market and seek for famous delicious specialties of Laos, beautiful and unique silk textiles, and diverse souvenirs.
There are available duty-free shops that provide items at pleasant prices such as chocolate, wine, Cuba cigar, cigarettes, coffee, and electrical household products.
Luang Prabang
While you are experiencing the nightlife of Luang Prabang city, we highly recommend you to visit the night market there. Try on some Laotian cloth, bags, shirts, Laos silver jewelry, silver souvenirs, silver Buddha statue or paper pictures… Those people who are fans of natural products can travel to Kopnoi, Ban Alpha near Phousi mount and Nam Kham River.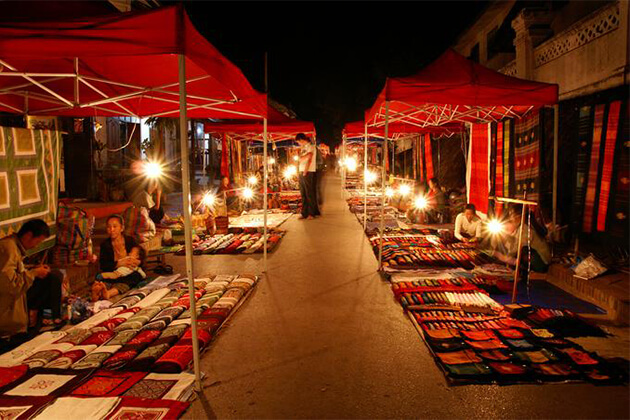 Champasak
Champasak provides tourists with typical goods of Laos as silk, jewelry, and antiques. And Paske Morning Market is a major shopping place in the city. A lot of items are waiting for being picked up, but do not forget to buy Champasak coffee as we mention above.