When is the best time to visit China? Well, it seems to be the hardest question to answer because in such a large country with a diverse climate, each season has its own specific beauty. If you are going to visit Asia, especially enjoying luxury Asia holiday packages and China is one of your destinations, knowing what the weather like in each season is really necessary. So, shall we begin? In this article, I would like to tell you the best time to visit China.
Best Time to Visit China – Peak Traveling Season
Travel to China in Spring | April – May
As a matter of fact, spring is a great season to have a vacation. This time in China, the weather is warming up and pleasant. You can easily feel the fresh air and natural energetic changes. Flowers are blooming fully, and the landscape is picturesque. There is a wide range of destinations in China that tourists should not miss in spring are:
Suzhou/ Hangzhou: Enjoy the paradise-like beauty with peach blossoms, plum blossoms, and spring flowers, getting a boat trip in West Lake, spending time in Chinese traditional garden will be a great experience.
Luoping, Yunnan: In the spring, the Rape Flower Festival is held in this small town. Come and see the glorious sight.
Guilin: the natural scenery of Li River and the Yulong River and the magnificent scene of Longji Rice Terrace will impress the tourists. You can take amazing pictures there.
Beijing: in this historic capital where the ancient and modern values co-exist, tourists can find the springs flowers once enjoyed by the emperors.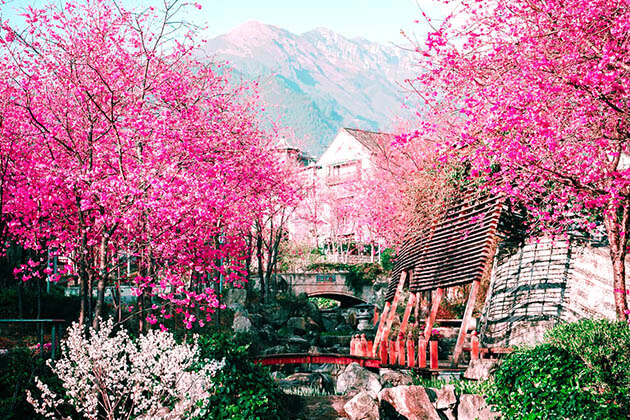 Visit China in Autumn | September – October
In most parts of China, the weather begins to turn cool from warm. This time, rain is less and suitable for outside activities. Tourist can enjoy the crisp autumn air in:
Beijing: The Great Wall is now at the most suitable time to visit. Tree leaves are changing their color, and walking along the Great Wall is like following an endless line of red and yellow.
Huangshan – the Yellow Mountain: Every fall, this mountain shows its most magnificent attractions. Along with the fabulous picture of various shades of orange to red leaves, watching the sunrise, impressive waterfalls, rocks, or the cloud sea will be an unforgettable experience.
Chengdu: this place is famous for the lovely pandas. However, if you come to Chengdu at the time of Autumn, you can have the chance to see the baby pandas which are even more adorable.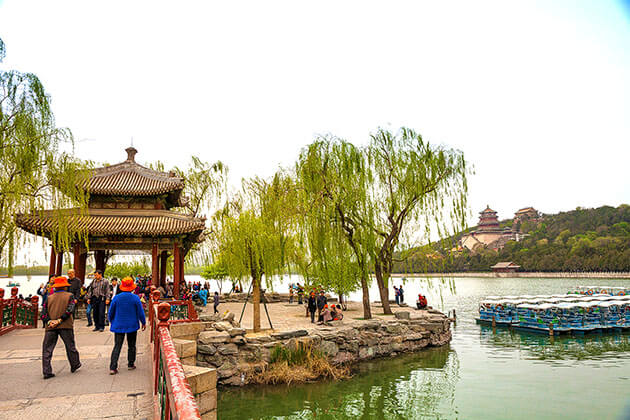 Low Traveling Season in China
China in Summer | June – August
It is hot in summer with a daily temperature above 30 degrees Celsius. It is the peak of domestic travel as Chinese families are having their vacations. The heat and the crowds are inevitable. However, it is time for most activities to do in the year like sightseeing or mountain hiking. Here are some recommended Chinese destinations in the summer:
Tibet – the land of purity and mysteries. The scenery is enchanting with crystal sky reflected in mirror-like clear lakes, snowy mountains, colorful flags flying in the air. There varied mysterious cultures waiting for tourists to explore.
Zhangjiajie: this place is an ideal destination for Avatar fans. Discover the mountain inspiring Avatar Hallelujah mount – Heavenly Pillar. It is also famous for Zhangjiajie National Forest Park. Let the green trees and the wind blowing in the mountain cool your summer.
Mount Emei: this is a heaven for exploring Buddhism Culture. Apart from the religious meaning, it owns beautiful natural scenes, waterfalls, ancient trees, and the best place to run away from the heat of summer.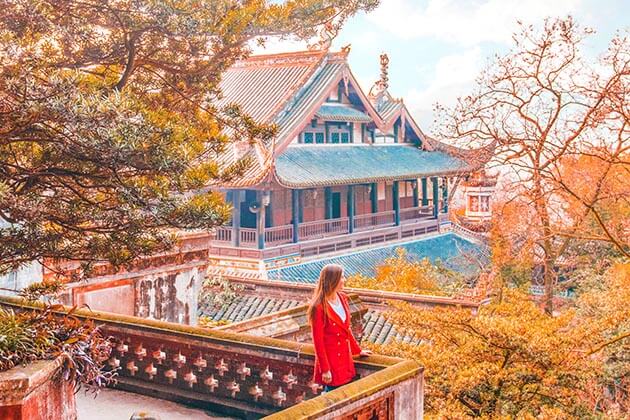 Enjoy Vacation to China in Winter | November – March
This time is the low season for traveling in China. The weather is cold especially in the North where cities can be covered in blankets of snow. The good point is tourists can save money thanks to the lower price for flights and accommodations. You also do not have to worry about tourist crowding. Wintertime in China does have attractions:
Harbin International Ice and Snow Festival: this annual biggest ice and sculpture event all over the world normally occurs in January and lasts for about one month in Harbin.
Chinese New Year: the most important event in China.
The south area with mild and warmer winter like Yunnan, Hainan, Macau, Hong Kong.