Are you planning to spend your next holiday to take an amazing trip to Cambodia? If the answer is yes, Cambodia Visa information is what you need. Cambodia has three international airports that locate in Phnom Penh, Siem Reap, and Sihanoukville. You can also arrive in Cambodia on land through the selection of borders with neighboring countries of Thailand, Vietnam, and Laos. Generally, due to the greater volume of traffic at Cambodia's international airports, the custom routines here seem smoother than those at land borders. Passing land border to get into this country is not difficult, but some has complained of Cambodian immigration officers tried to cheat some cash from uninformed tourists.
Cambodia offers Visa On Arrival, Visa Online, and Visa from the Embassy. One thing to note that if you are from Algeria, Afghanistan, Bangladesh, Arab Saudi, Iraq, Iran, Sudan, Pakistan, Sri Lanka, or Nigeria, you are required to get a visa in advance at the Royal Embassy of the Kingdom of Cambodia in your country.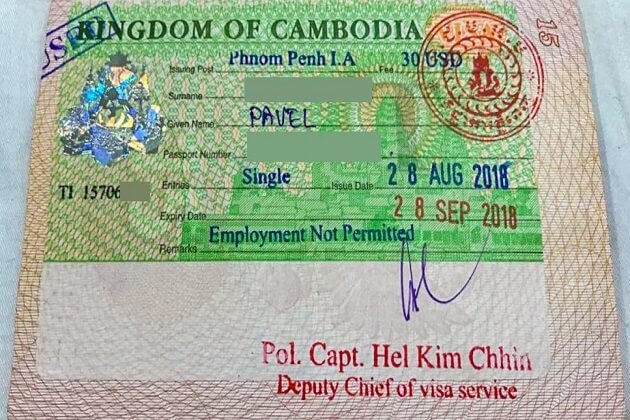 Cambodia Visa Exemption
If you hold a passport of one of the following countries, congratulation, you can visit Cambodia without having to apply for a Visa.
– 14-day entry: Thailand, Brunei, Seychelles
– 21-day entry: Philippines
– 30-day entry: Indonesia, Malaysia, Vietnam, Laos, Singapore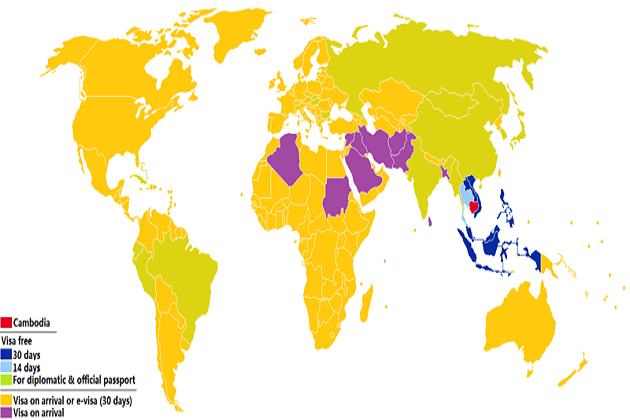 Cambodia Visa On Arrival
Many travelers to Cambodia said that getting a Visa On Arrival was very easy and straightforward.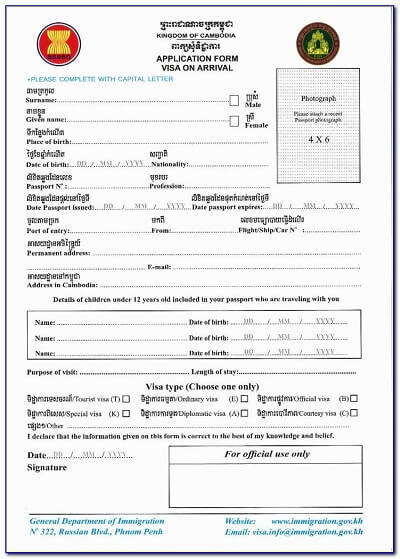 Where to Get a Cambodia Visa On Arrival?
Tourists arriving in Cambodia through Siem Reap or Phnom Penh International Airports and at land-border crossing from Vietnam, Laos, and Thailand can obtain a Cambodia Visa On Arrival
Requirements for Obtaining a Visa On Arrival
Things you will need to get a Cambodia VOA:
– A passport that is valid for at least six months and has at least two empty pages
– An application form. It is available on the plane, at the airport or the land-border crossing
– Fee in US dollar ($)
– A passport photo of yourself (or you can pay a fee of $2 to have one scanned from your passport)
Types of Cambodia Visa Available for Application on Arrival
– Tourist Visa (T): this type of Visa is a single entry and is valid for staying in 30 days and less. You can renew it once for another 30 days without having to leave the country. The cost is $30.
– Ordinary Visa (E): This type of visa is also known as a business visa, which is necessary if your stay is longer than 60 days. It is also a single entry and is valid for 30 days with an extension available. The cost is $35.
Processing Visa on Arrival
Being one of the easiest and most straightforward types of Visa to get in Cambodia, the processing of VOA is very quick. After finishing all the requirements, simply hand them to the immigration officer and wait for 5 to 10 minutes. When they're finished, they will give you back your passport together with your visa inside.
Cambodia Visa Online
The Cambodian e-visa is another option for obtaining a travel visa, especially for those who prefer to have everything prepared beforehand. However, you can only apply for the Tourist visa online and it is only for tourists entering the country through some sites. They are the international airports in Phnom Penh, Siem Reap, and Sihanoukville and land border crossings in Poipet, Bavet, Cham Yeam, and Stung Treng.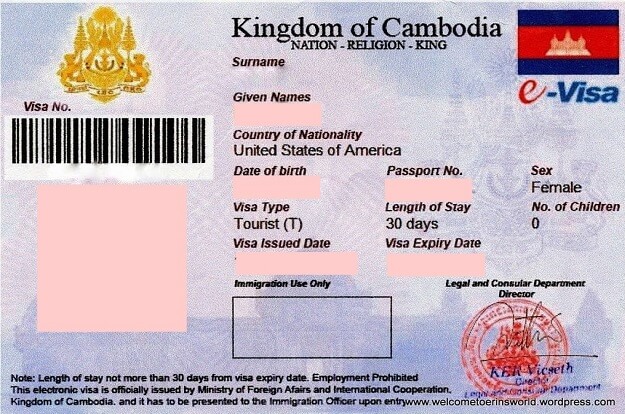 The cost is 40$ and the validity period is the same as VOA, which is 30 days. It is advisable to apply more than a week in advance because the visa can get lost in the system.
Pre-approved Visa from The Consulate
This is the traditional way to obtain a visa for all travelers. It is also the only way to obtain a Cambodian visa for the citizens of Algeria, Afghanistan, Bangladesh, Arab Saudi, Iraq, Iran, Sudan, Pakistan, Sri Lanka, or Nigeria. And they will also need to provide employment letters or proof of self-employment/business and round trip airline tickets in addition to the required documentations mention below. The cost is USD 35 for a business visa and USD 30 for a tourist visa.
Required Documents:
– Visa Application Form
– 1 passport photo
– Your original passport
Apply them at your nearest consulate of the Kingdom of Cambodia in person or by mail, for which you will need to attach an envelope with your address to receive your passport and visa on approval. Your travel agents can apply for a visa on your behalf, contact them for more information.
Cambodia Visa Cost and Extension
Once in Cambodia, you can extend your visa at the Immigration office. It is located right across the road from Phnom Penh International Airport. The extension process is quite straightforward and some travel agencies can help you have it done with arrangements. Ask them about the price beforehand.
This is the summary of the cost of all types of Cambodia Visa and extension fee:
Visa type
Cost
Extension
1 month
3 months
6 months
12 months
Tourist
e-Visa
$40
$45
N/A
N/A
N/A
VOA, at Consulate
$30
Business
VOA, at Consulate
$35
$45
$75
$155
$285
So, all that I want to tell you about Cambodia Visa is already showed. Normally, you have to obtain a Cambodia visa on your own; however, when you enjoy our Asia luxury holiday packages, you don't need to do that, we do all things for you with our pleasure.