Traveling aboard means to open up your mind to experience a whole new culture. There, you have to listen to another language, marvel at different sceneries and try the food you've never tasted before. Many tourists also enjoy the fun of using the local currency when having to practice calculating maybe even just for paying a cup of coffee.
Here are a few words of notice when it comes to a Vietnam vacation: after a trip to Vietnam and having to spend the Vietnamese currency, called Dong, my math skills soared higher than ever. This is because the basic Vietnam money is based on the multiplication of 1000. That means a handful of zeros for big purchases! There is a popular joke among foreign travelers that everybody became "instant millionaires" after changing their money to Vietnamese Dong. It can be tricky for first-time visitors to Vietnam, but as always, practice makes perfect. And with our guide to Vietnamese currency, buying and spending in this country will become so much easier.
Information for Travelers About Vietnam Money
Vietnam Money – Exchange Rate
Even though most major hotels and shops have credit card terminals and some might accept USD, it is much more convenient to have Dong ready to use in your wallet. This is because the majority of Vietnamese still pay by cash and it is the only way method available for purchases in local markets and buying street food (which are definitely must-try in Vietnam).
Here are a few examples of the current exchange rate for reference:
– 1 USD ≈ 23,200 VND
– British Pound: 1 GBP ≈ 28,380
– Euro: 1 EUR ≈ 25,500 VND
– Canadian Dollar: 1 CAD ≈ 17,400 VND
– Japanese Yen: 1 JPY ≈ 215 VND
– Australian Dollar: 1 AUD ≈ 15,600 VND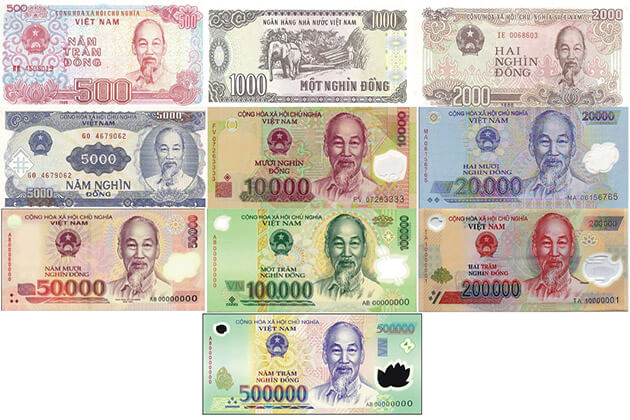 Where to Have Your Money Exchanged
There are places that offer money exchange services such as banks, airport moneychangers, and airports. However, most only support major currencies and apply different rates.
Banks in Vietnam
I highly recommend banks for foreigners, especially first-time travelers because they provide the most trustworthy service. You can look for a bank near your place that belongs to one of the following brands: Vietcombank (VCB), Techcombank, Military Commercial Joint Stock Bank (MB Bank), Asia Commercial Bank (ACB), HSBC, and Exim Bank. The downside is that they only operate from 8 AM – 4 PM on weekdays and the waiting time could be quite long. And their exchange rate is similar to those in airports, which are not the most appealing.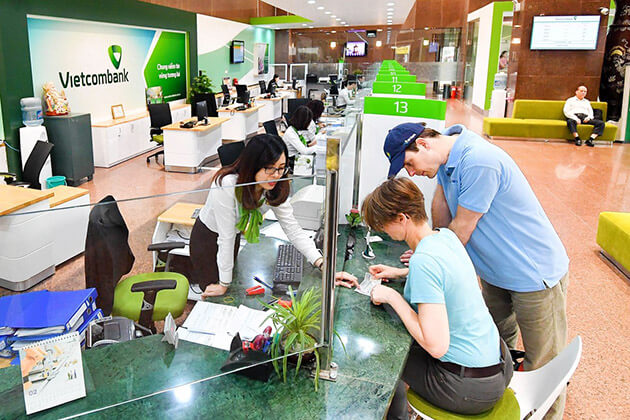 Hotels in Vietnam
Exchange money in hotel receptions is also a good idea if you arrive when the bank has closed. Different hotels have different exchange rate and larger hotels often have more competitive rates.
Gold and Jewelry Shops in Vietnam
There are dozens of gold and jewelry shops around each tourist destination. To compete with big bank brands, attractive rates are their biggest appeal. The exchange rates in these establishments are surprisingly fair, and no fees added. You can find many of them in Hang Bo and Ha Trung streets near Old Quarter in Hanoi, and in Nguyen An Ninh Street in Ho Chi Minh City.
Tips About Vietnam Money
ATMs in Vietnam
If you will be staying in Vietnam for more than a few days, it is best not to withdraw all your budget upon arrival due to the risk of being stolen. The availability of ATMs makes getting Vietnamese cash from your card an easy task, as long as you stay in the town centers or cities. The maximum withdrawal for one transaction varies between VND four million to VND nine million, dispensing 50 000, 100 000 and 500 000 VND notes. Therefore, millions of dong can make a thick wad of cash, keep that in mind if you need to withdraw large amounts of money.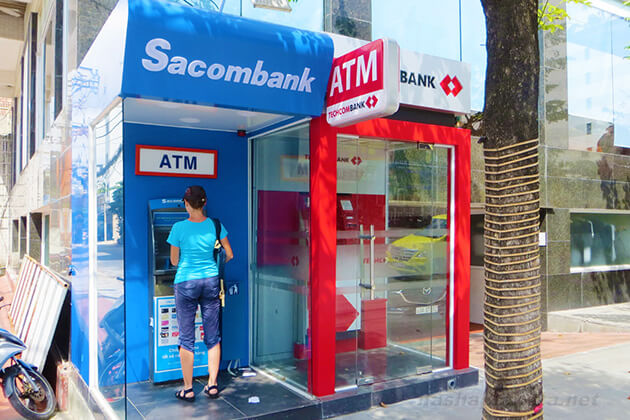 Other Currencies Are Sometimes Accepted
It is not very often but still possible. There is a recent obligation that shops must only ask for payment in the local currency but sometimes owners still accept US dollars or Euros for foreigner's convenience. However, the exchange rate is often set to their benefit so this option should only be reserved for inevitable.
The Symbol "K" Means "Thousand"
This is done in order to counteract the annoyance of too many zeros (Yes, even the locals are tired with it). If you see hand-written price tags or signs that state "50K", then it means 50,000 VND. So literally, "K" is short for three zeros.
Feel Free to Bargain in Local Markets
Shopping in local stores was one of the most interesting parts of our journey because we were trying to bargain like a real local with the help of our lovely tour guide. Bargaining is actually very common in Vietnamese everyday life. You only need to propose a lower price for the product that you want to buy and if your discount is acceptable, the vendor will agree. Note that it is not applied for products that have printed price tags as they need to be in accordance with the charging system.
When it comes to Asia Luxury Tours, I know the money will not be your matter as long as you receive excellent services. However, I believe that the information above is still useful. If you have any questions, contact us without any hesitation.